Coolskin® 375 Oven Gloves (Pair)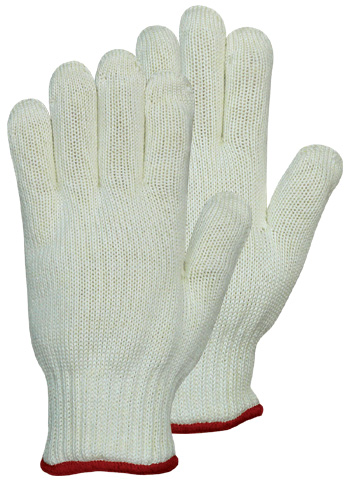 Size 9 is now available in BLUE
Genuine Coolskin® 375 gloves. Soft, nimble and machine washable. With handy hanging loops.
Coolskin® products are made using a duplex knitted structure to give a glove within a glove. The inner glove controls the fit and comfort. The outer glove absorbs the heat. The gloves are designed to be a generous loose fit for flexibility and comfort.
The length of the gauntlet varies depending on hand size. From tip of middle finger to cuff edge the lengths are approximately :
Size 7 / Length 25cm, Cuff colour Yellow
Size 8 / Length 25cm, Cuff colour White
Size 9 / Length 25cm, Cuff colour Red
Size 10 / Length 25cm, Cuff colour Blue
Important limitation of use: Not suitable as protection against steam or hot liquid spillage. Please see our Coolskin® Steam gloves for use with steam.
Outer glove made from Meta-Aramid fibers, DuPont NOMEX®111 or equivalent. The COOLSKIN® range has been made under strict controls of quality, certified to British Standard BS6526.10988 for Domestic Oven Glove requirements.
Machine Washable