Coolskin® 375 MTX MITTENS (Pair)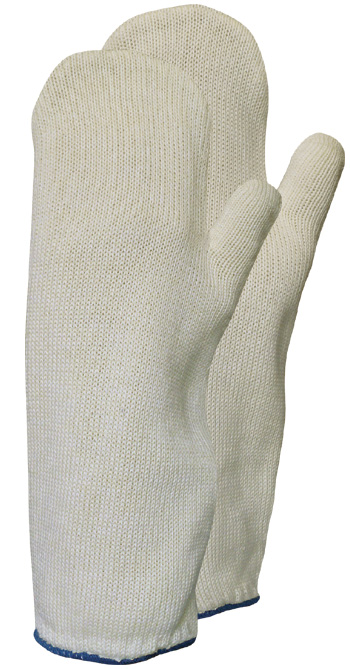 These Coolskin® 375 MTX oven mittens come in one large size for all and are quick and easy to put on / take off. They will remain soft and floppy with repeated washing. With handy hanging loops. Total Length approx. 30cm
Coolskin® products are made using a duplex knitted structure to give a glove within a glove. The inner glove controls the fit and comfort. The outer glove absorbs the heat. The gloves are designed to be a generous loose fit for flexibility and comfort.
Important limitation of use: Not suitable as protection against steam or hot liquid spillage.
Aramid 1313 fibre, originally created by DuPont™ under the brand NOMEX®, forms the heat resistant outer layer of COOLSKIN® gloves and mittens. Aramid has a high level of heat and flame resistance, yet has similar wear behaviour to normal apparel fibers. With the addition of a high quality cotton lining, the gloves are both comfortable and flexible. Aramid 1313 does not lose its resistance to heat by washing. The gloves and mittens manufactured with this material have exceptional durability.
COOLSKIN® gloves and gauntlets are Personal Protective Equipment (PPE) under Regulation (BS) 2016/425 Category II, UKCA marked and certified by Notified Body no. 0120: SGS United Kingdom Ltd, Unit 202B, Worle Parkway, Weston-super-Mare, BS22 6WA, UK. Certification testing to British Standard BS 6526:1998 (Clauses 4.2 Materials & 4.4 Dimensions), BS 1413 pH test, ISO 14362-1 for Azo Dyes, ISO 12127-1 contact heat 250°C when new and after 20 washes