Coolskin® 375 GTX Mid Gauntlet (Pair)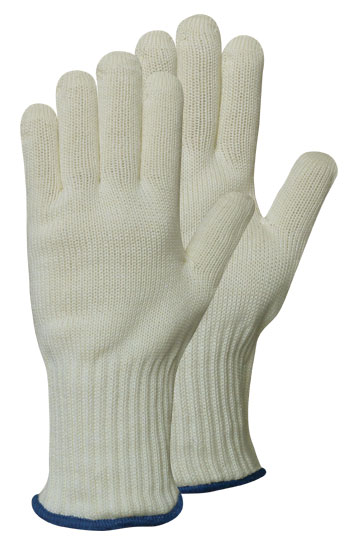 Size 9 is now available in BLUE
The medium-gauntlet length Coolskin® 375 GTX offers additional protection over the wrist area. Soft, nimble and machine washable. With handy hanging loops.
The length of the gauntlet varies depending on hand size. From tip of middle finger to cuff edge the lengths are approximately:
Size 8 / Length 31cm, Cuff colour White
Size 9 / Length 31cm, Cuff colour Red
Size 10 / Length 31cm, Cuff colour Blue
Important limitation of use: Not suitable as protection against steam or hot liquid spillage.
Aramid 1313 fibre, originally created by DuPont™ under the brand NOMEX®, forms the heat resistant outer layer of COOLSKIN® gloves and mittens. Aramid has a high level of heat and flame resistance, yet has similar wear behaviour to normal apparel fibers. With the addition of a high quality cotton lining, the gloves are both comfortable and flexible. Aramid 1313 does not lose its resistance to heat by washing. The gloves and mittens manufactured with this material have exceptional durability.
COOLSKIN® gloves and gauntlets are Personal Protective Equipment (PPE) under Regulation (BS) 2016/425 Category II, UKCA marked and certified by Notified Body no. 0120: SGS United Kingdom Ltd, Unit 202B, Worle Parkway, Weston-super-Mare, BS22 6WA, UK. Certification testing to British Standard BS 6526:1998 (Clauses 4.2 Materials & 4.4 Dimensions), BS 1413 pH test, ISO 14362-1 for Azo Dyes, ISO 12127-1 contact heat 250°C when new and after 20 washes